Some Old Fisherman Learn New Tricks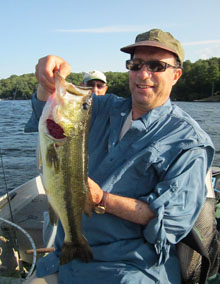 Since I was a small boy, my father, brothers and I have fished on a lake in upstate New York. Although we have done a great deal of trout fishing on the many nearby streams, it seems that no place was as dependable or relaxing as this lake. More importantly, it was and remains our father's favorite place on earth. We have usually fished in the same 3 spots, using the same types of baits and the same methods. For many years, we caught mostly pickerel and perch, with our boat anchored, while hanging live baits over the side. Occasionally, a largemouth or smallmouth would show up and that would become an event. Thanks to a careful stocking program, in recent years we have caught many fine walleye and some good-sized rainbow and brown trout, in the same spots, using the same baits (while tossing the occasional lure) and methods.
I'm not sure how it happened but about 2 weeks ago, my youngest brother David finally convinced everyone to concentrate on fishing a variation of a rubber worm, called a wacky worm. It is shorter and stubbier than a traditional rubber worm and you hook it right in the middle so that both ends bounce a bit as you slowly lift it, while you retrieve it. My father believes that this imitates a leech or a baby lamprey. Apparently, this was what the bass have been waiting for all these years and after two recent trips to the lake, we've had our hands full, catching and releasing many good-sized largemouth bass and a few smallmouth, as well. As the summer unfurls, the bass fishing may slow down, but for now, we've been enjoying our new-found success which has been way too many years in the making.